Making this post once again..
If you follow this tutorial to every step necessary you WILL be able to host games, set up dedicated servers etc. Just change the ports to the spesified ports for each game/server.
First thing you gotta do is to check how many routers you have in the house which the internet is passing through, and also check the manufactorers of these routers.
The definition on a router is (according to my dictionary) a switch that contains a network port which says "internet"
NB!
If you have 2 or more routers with an "internet" connection on it, read fast through the first two lessons and start on lesson 1 after lesson 4
First lesson:
Setting up a static ip
1. Enter your Network connections, and find out which connection is being used ATM. First off, you right-click this connection, and press status. Press details/advanced to see the full map of IPs.
2. While being inside these details, right-click the connection again, but this time press properties. Once in, you double click the thingy saying Internet protocol, or TCP/IP, on Vista, Internet Protocol Version 4(TCP/IPv4).
3. Now enter all the details described in number 1 into number 2. There you go; the one saying IP address is now your static IP.
Second lesson:
Setting up an internal firewall
1. This is the firewall you have on your computer (Windows, Norton, McAfee, Sygate etc, etc) What I recommend is for you to simply turn it off while hosting.
2. If not; make sure the program will permit Warcraft 3 on the network, and also open ports 6112-6119 TCP.
Third lesson:
Setting up a regular firewall
1. Depending on your router, enter it in several ways;
a ) Through internet (type the ip in the address line)
b ) Telnet. Press the windows button while pressing R. Then you type in cmd.exe and press RUN. When in the command prompt type Telnet "IP". Example: telnet 10.0.0.1
The ip of the router can be found on your very own computer. Right-click the internet connection your using and press status. The IP following Gateway will be your router connected to this computer.
2. The Username/Password will vary from router to router, but the standard will be ADMIN, both when it comes to Username and Password, or just one of the two. (If this isn't the case, talk to the people setting up the router/eventually talking to your parents/ISP)
3. Once your inside the router you should start messing around. First off; go to the section called NAT. Here you should type in the battle.net ports, which is 6112-6119, and open these on TCP directed to your static IP that we made in lesson 1. The Internal IP address is your PC, while the Global IP address should say 0.0.0.0, which allows everyone on the outside of your house to reach your game.
4. In some routers theres also a Firewall option, where you have to put the details on your ports in again. Do this step like on the NAT
option.
Fourth lesson:
Setting up wireless access point
1. This is the part for those with 2 or more routers with the "internet" connection. What we're going to do is make the firewall inside those extra routers invalid, making them a part of the network of your last router (The one with no routers between itself and the internet)
2. Take a look at this picture;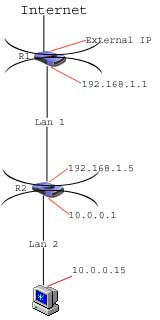 What your going to do is to make the whole network into LAN1, meaning only the firewall of R1 is working.
3. So; enter the router named R2 (2nd router from the internet) and cancel its option saying DHCP (If this option is enabled, the router will start giving out IP addresses to your network)
4. Now you enter a static IP for the router, and an IP easy to remember, for example 10.0.0.100
5. Now you restart it to make the new options work, and move the cable from the "internet" connection till a normal LAN connection, meaning the cable from R1 should be next to the cables to the computers in R2.
6. Now, if you did this right it should work, if not, please try again. If you have even more routers repeat step 3,4 and 5, first with R3, then R4 and so on.
7. Now return to lesson 1
If you'd like to test whether you made it or not, test your ports easily
here
instead of wasting people's time getting them stuck on b.net
Also, if you somehow shouldn't find what you where looking for here and don't want to ask me you could always try to understand the harder tutorials
here
By:
Evero
P.S. If you are using Vista you would not have Telnet Klient installed on the computer, but if you go to control panel - uninstall programs - turn windows features on or off - find Telnet klient and there u go!
P.S.S. Happy thoughts and comments are welcomed

P.S.S.S. If you have special needs/special routers take contact with me or add reply here and I'll try to help additionally
Sidst rettet af Evero Tirs aug 19, 2008 5:22 pm, rettet 1 gang
Headhunter





Antal indlæg

: 15


Age

: 27


Geografisk sted

: Stavanger


Registration date :

19/05/08



You are a very nice guidewriter, Evero.
I'm happy to have you in the clan

..Manish
Spirit Walker





Antal indlæg

: 176


Age

: 25


Geografisk sted

: København


Registration date :

22/01/08



Manish Gupta skrev:You are a very nice guidewriter, Evero.

I'm happy to have you in the clan

..Manish
I actually wrote this tutorial for the first time almost 2 years ago, in norwegian, on a trackmania forum. Then I translated it to english + updated for Vista etc when I was in a DBZ Tribute clan. Now I'm here

Headhunter





Antal indlæg

: 15


Age

: 27


Geografisk sted

: Stavanger


Registration date :

19/05/08




---
Permissions in this forum:
Du
kan ikke
besvare indlæg i dette forum